About XOXO Alice
Who is Alice?
Let me tell you about Alice. Alice is my secret alter ego, the side of me that is allowed to be a bit more... well, more. Alice can do things that I may not be bold enough to do in real life. She poses for sexy photographs, wears corsets and lacy underwear, and flirts with the camera.

That photograph next to all of this talking is from my own boudoir photoshoot. I was pretty nervous about having those photographs taken. After all, I am not perfect looking. I have a rather large booty, my breasts are slightly different sizes, my skin is not perfect, etc etc. But with a skilled hair and makeup artist, and a wonderful photographer who posed me perfectly under pretty light, I think I look beautiful!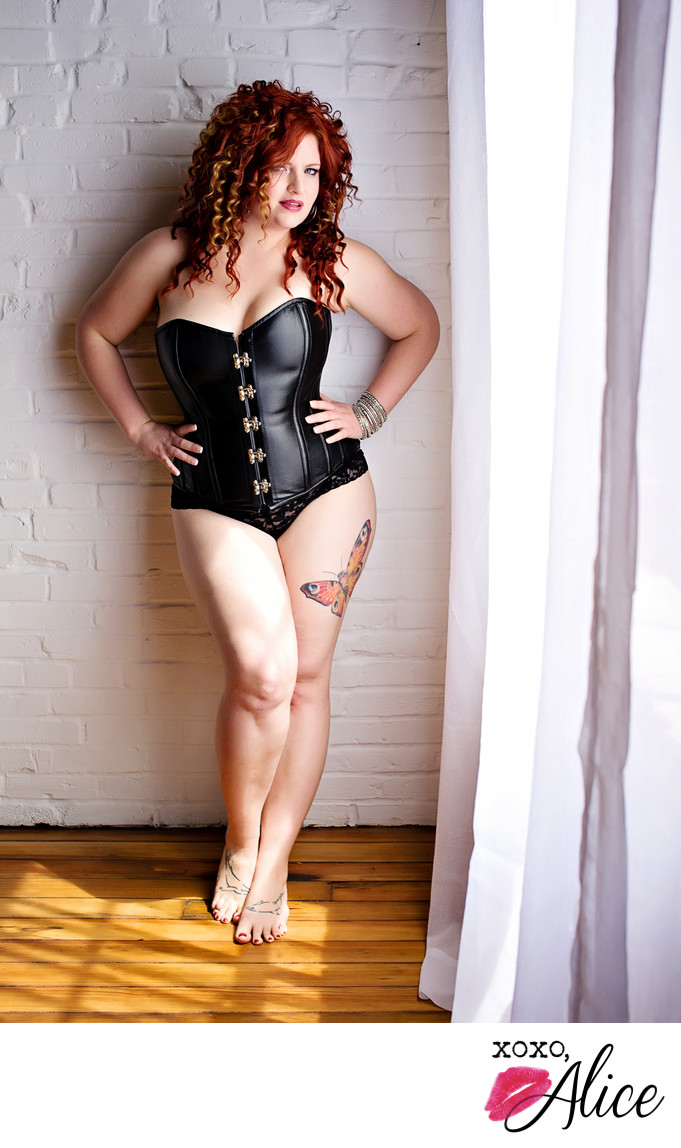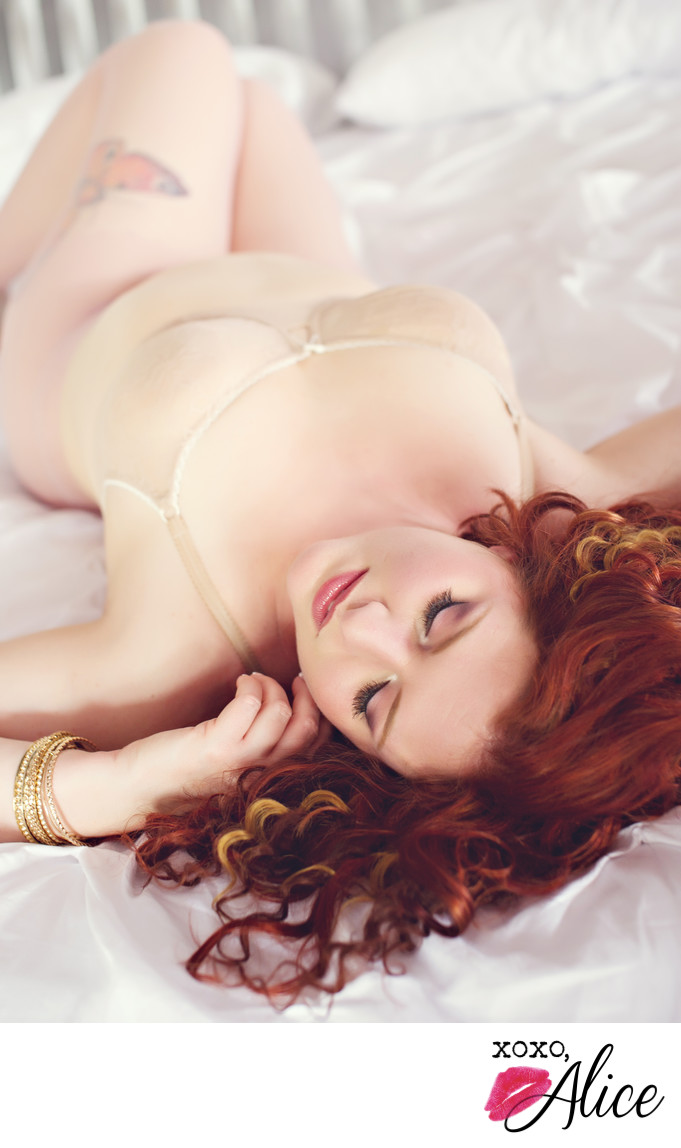 I was pretty nervous leading up the experience. Would I look fat? Would I be able to make a convincing sexy face? Would I be able to pose in a sexy way? Did I get flattering lingerie that would look sexy in the photos? UGH, so much pressure, right?

It turns out, everything was just fine. Not only fine, but transformative. I came out of that day feeling like a new woman. I felt sexy and powerful and photogenic.

And that is what I want you to experience. All my life I felt pretty-ish. You know, a pretty girl, but not gorgeous or beautiful. Definitely not photogenic. My photographer and these photographs had a very real impact on my self-image. All of a sudden, I was beautiful! I now have several of these images hanging in my office so that I can see them every day as a reminder to myself that I am beautiful and worthy of love. Most importantly, I was worthy of loving myself. What a freaking revelation. Even if I am having a crappy day and feel bloated or fat or I'm having a breakout or any number of things that can make us feel badly on a daily basis - I'm still the same beautiful human that is in these photographs.

I believe that every woman has a sexy side. Sometimes your sexy side is bold, out there and fabulous. Other times it is more hidden and shy, but no less fabulous. I want to help you celebrate you, and your amazing, beautiful, romantic, super gorgeous, sexy self. I want you to have the same transformative experience I did. That is why I do what I do.

Boudoir portraits can be done for any number of reasons, or for no reason at all. Do you really need a reason to spend the day getting glammed up, wearing beautiful clothes, and having amazing photographs taken?!

Just in case you feel like you HAVE to have a reason, here are a few:

1. You are getting married. These sessions make an amazing gift to your spouse to be.

2. You have been married one year...or five or twenty. Show them that you are even hotter than the day you met. The one year anniversary gift is paper and a boudoir album is the perfect way to gift that traditional gift with a modern flair.

3. Valentines Day, Christmas, Birthdays, Half-Birthdays, or any holiday!

4. Celebration of fitness goals, life, survival. We all have different milestones, things we have accomplished that we are proud of. This is a great way to commemorate that experience.

5. You are ready to feel empowered and strong and fabulous and gorgeous.

Whatever the reason, please reach out to see if I am the right photographer for you.
You can ask for Alecia! (Alice only comes out on special occasions.)